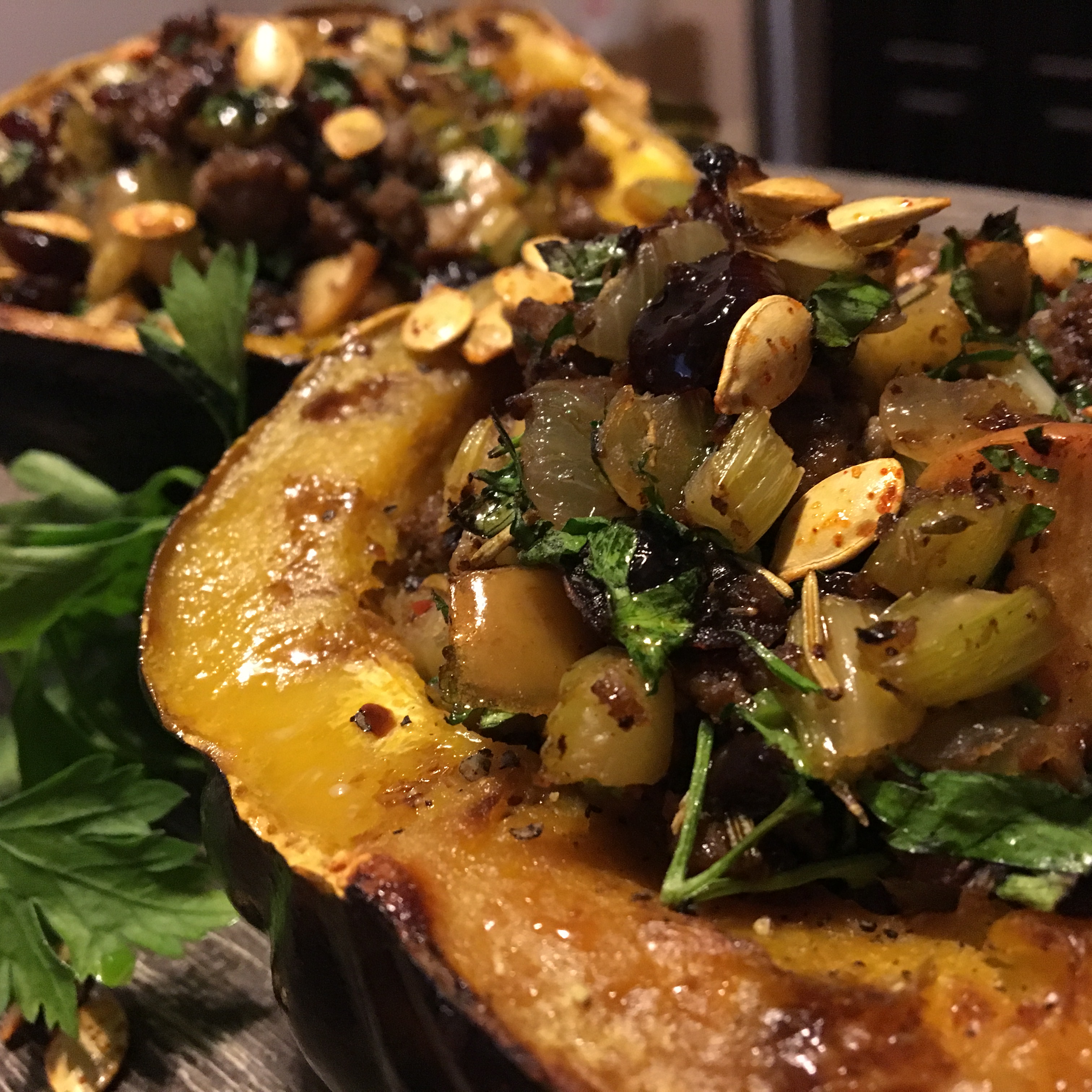 2 large acorn squash ( or 4 small )
2-3 tbsp TSOOC Wild Mushroom and Sage Olive Oil
1 lb turkey or pork sausage
1-2 tbsp Salt Sisters Herbs de Provence with Sea Salt blend
1 medium onion
1 cup celery, diced
1 cup apple, diced
1/2 dried cranberries
1/2 cup flat-leaf parsley, chopped
2-3 tbsp TSOOC Red Apple Dark Balsamic
Preheat over to 400F
Cut acorn squash in half lengthwise, remove all seeds and strings (save seeds to roast for a snack or garnish), brush inside with TSOOC Wild Mushroom & Sage Olive Oil, place cut side down on a lined cookie sheet.
Bake for 15-20 minutes depending on the size of squash.
Meanwhile, on medium heat, sauté sausage in TSOOC Wild Mushroom & Sage Olive Oil until all pink is gone. Add Salt Sisters Herbs de Provence blend, onions, celery, apple and dried cranberries. Cook until onions are translucent and everything has softened.
Remove squash from oven and turn over. Scoop prepared filling into squash halves and return to oven for 8-10 minutes or until everything is golden brown.
Serve with a generous drizzle of TSOOC Red Apple Dark Balsamic and more TSOOC Wild Mushroom & Sage.
Top with roasted acorn squash seeds for a nutty crunch.
*Omit Sausage and add diced mushrooms for a Vegetarian/Vegan option.